Information and updates from the various communities supporting Tidenham Parish can be found below.
Tidenham Parish Council
A letter from the chairman of Tidenham Parish Council can be accessed by clicking the following link. Chairman's Letter.
Notice to residents of Tidenham Parish regarding council meetings. Click here
Tidenham Parish Council is supporting Chepstow Covid 19 Helping Group whose volunteers are helping communities in Tidenham Parish with shopping, collecting medications etc. The co-ordinators in the Parish are as follows:
Tutshill Area (including Tidenham, Boughspring, Woodcroft if possible) – Katy Pingree 01291 892243
Sedbury Area – Rebecca Brown 01291 892257
Beachley Area – Neil Tylor 01291 892563
A huge thank you to all the volunteers involved.
Forest Care Homes
Parish Councillor Helen Molyneux, in her role as Forest of Dean District Councillor, was tasked with contacting and keeping in touch with the care homes in the Forest district. She was able to report to Councillors at the virtual Parish Council meeting on Wednesday, the excellent news that there have been no cases of Covid 19 infection in Forest care homes. Councillor Molyneux had been encouraged by the professional way each had managed the current crisis and their optimism in the face of the challenges presented by the current situation.
Carers
Covid 19 information for carers from the Gloucestershire Care Hub. Please share with carers you may be in contact with. Click here
Gloucestershire Carers Hub – What's on in May for carers. Click here
If you, or anybody you know, is a carer and not already registered with the Carers Hub please contact carers@peopleplus.co.uk or call 0300 111 9000 for information and help.
Forest of Dean District Council:
District Council Business Grant Update – May 28th – click here
Gloucestershire County Council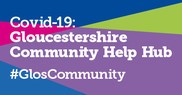 Community support news – help hub launched to support residents

Gloucestershire's councils and partners have created a community help hub to connect local people who need help, with others who can provide the support they need.
To read more please click this link.
People can now register to the county's community help hub by calling 01452 583519 Monday to Friday between 8.30am and 5pm, as well as online at www.gloucestershire.gov.uk/helphub

Please click here to see flyer from 'The Long Table' (a community interest company) which is offering a delivered meals service as part of the Covid-19 response.
Other Information